In the beginning lie the end.
Jesus condemned to death.
Lifting the curtains - spiritual atmosphere.
Heaven to Earth - love is the light.
Jesus falls for the first time
Inner strength seeking liberation - procreation.
Harmony seeks chaos - original sin
Memory becomes conscious - OM.
Veronica wipes Jesus' face
Sharing the light - truth within.
Jesus falls for the second time
Obstacles way - mind over matter.
The possibilities of realities - transforming ego.
Jesus falls for the third time
Worshipping darkness - actualize thoughts.
Teach the wise - seek the healing.
Jesus is nailed to the cross
Ascension - Free will.
And endless labyrinth of realities - expectations.
Jesus is taken down from the cross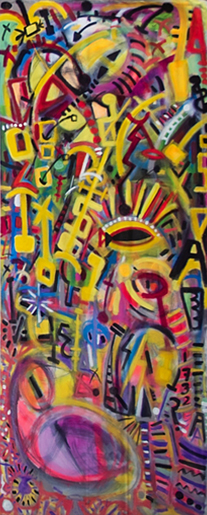 In the end lies the beginning.
Jesus is laid in the tomb

Golgotha
30ft x 60in single piece of canvas